Spoil dad with the best gift ideas this Father's Day from Sippify

The spring season is fast approaching, and with it comes Father's Day, the day of the dads. But, instead of panicking and stressing about what to get or how much to spend on the special man this year, open up Sippify - we've got you covered.

So, it's the first weekend of Spring, nature is healing from a cold winter and the weather is finally tolerable. The big man is one that values the little things in life, he doesn't ask for much accept quality time with his family, so you go camping!
Being the champion you are though, you throw in a 4 pack of VALE RED LAGER, 375ML 4.7% ALC into the esky, the perfect beer for dad to enjoy this season while laying on the beach or sitting around a campfire. You even pack in a pair of VALE BREWING SOCKS – BLACK to sweeten the deal, because who doesn't love a fresh pair of socks to match their beer.
Dad not a fan of beer, or doesn't like warm socks? Get him a bottle of GALWAY PIPE GRAND TAWNY 12YO, 750ML to warm him up instead. Reasonably priced and exceptionally tasting, with a perfect balance of sweetness and acidity. This fortified wine will be a great night cap for dad after a long day of relaxing.
"Hey Sippify, these options all sound great, but my dad doesn't drink alcohol" – (Some of you). Well, we have an option for that too. If your father won't enjoy our range of alcoholic beverages, he will enjoy the variety of Bickford's Traditional Sodas we have to offer, including:
BICKFORD'S LEMON LIME & BITTERS TRADITIONAL SODA, 275ML
BICKFORD'S CLASSIC COLA TRADITIONAL SODA, 275ML
BICKFORD'S CREAMY SODA TRADITIONAL SODA, 275ML
BICKFORD'S GINGER BEER TRADITIONAL SODA, 275ML
Each amazing flavour comes in a carton of 24, 275ml bottles, ensuring that your esky will be stocked for the duration of your camping trip – unless your dad REALLY likes the soda.


Dad's been flat out busy the last couple weeks, rather than shipping out and going camping, he's just happy to be home with the people he cares about most this Father's Day. As the thoughtful person you are, you're a planning on treating dad a little bit as a token of gratitude.
Given that you're not going camping, you've decided to spend the additional money you would have spent on marshmallows and smores, on a bottle of INNER CIRCLE AUST. NAVY STRENGTH RUM GREEN, 700ML 57.2% ALC. This award-winning rum is the perfect gift for your award-winning dad, aged 5 years in American oak ex-bourbon barrels for a flavour as unique as the big guy himself.
Rum not Dad's thing? Thinking something a bit more personal? You're in luck, get Dad a bottle of 23RD STREET DISTILLERY PERSONALISED SIGNATURE GIN, 700ML 40% ALC. Although it has the same aroma of mandarin and juniper as 23rd Street's ordinary signature gin, with the same pallet of Mandarin, Lime, Cardamom, Cassia and Liquorish as the ordinary signature gin; this one is better. Why? Because it has his name on it, so no one else can drink it but him, it is his – the bottle says so. You have the option to include a heartfelt message on the front and back of the label, saving you the effort of buying a card.
Does dad already have a big enough collection of 23rd street Gin? Get him the 23RD STREET DISTILLERY COOLERso he has a place to keep it all, well, whatever he can fit in the styling 15L container. This cooler is perfect for when you finally go camping again, featuring a wooden chopping board lid with cup holders, so his gin can be secure whist he cuts the lime into wedges for his favourite concoction.
Still don't know what to get him? You can't go wrong with beer, but if you really want to play it safe, treat your dad to the A BEER FOR ALL OCCASIONS GIFT BOX, providing him with a variety of beers from Vale Brewing and Fox Hat Brewing, some treats from Beerenberg and Almond Co, as well as his new favourite socks from Vale Brewing.

It's been a fair while since you've seen your Dad, life's gotten in the way, you live a fair distance away, but that wont stop you from spoiling him this father's day. You've decided to get time off work and make the journey down to see him, although not empty handed.
Armed with a bottle theXO BRANDY GIFTBOX, 700ML 39.1% ALC. You aim to treat him to the vanilla, aged oak and dark chocolate palate this brandy has to offer, whilst also reinforcing the fact that you are his favourite child.
Thinking he might need something with a little more kick? 23rd Street has you covered (again) with their 23RD STREET DISTILLERY SIGNATURE SINGLE MALT WHISKEY, 700ML 40% ALC. Hitting him with with taste of citrus rind and subtle white oak wood and spice notes, followed by toffee, butterscotch and malt grain. The perfect way to satisfy your dads expensive, yet sophisticated taste.
Want to spoil your father for choice? Then your weapon of choice is THE BIG WHISKEY LOVER GIFT BOX. This package includes 23rd Street's Hybrid and Batch 1 Single Malt Whiskey as well as 3 different treats from Sweet Addiction. These whiskeys present two very different yet equally flavoursome palates, with the Batch 1 Single Malt evoking Cardamom, Nutmeg, Honey, Brioche and Tangerine notes, whilst the Hybrid Whisk(e)y gives off hints of Cereal, Corn, Nuts & Dried Fruit. The perfect combination for the perfect dad who seeks adventure.
None of these options hit the target? Well, we've reserved one of the best to last. Father, Godfather, grandfather, great-grandfather etc. the BERESFORD 2016 GRAND RESERVE SHIRAZ, 750ML is sure to hit the spot. Made from the only the most exceptional grapes of world famous McLaren Vale and achieving Gold in the London Wine & Spirits Competition, this Grand Reserve Shiraz is sure to win over any Dad, no matter how Grand.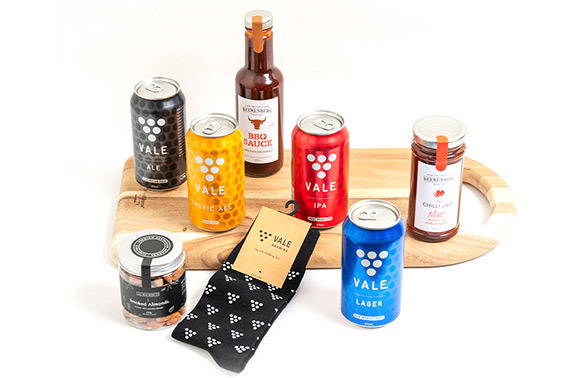 Checkout our complete range of Father's day gift ideas!

It's the thought that really counts and we take thoughtfulness to another level by printing your dad's name and a personal message directly onto the bottle labels